This is a short movie inspired by the shenanigans Piers got up to in his younger days. Long before he was 17 he would sneak out in his mums Fiesta Quartz and push it down the very alley featured in this short. The evening would be spent ripping around the town before returning it to its garage and resetting the odometer so that she would never know. She never even guessed when it came to having a service and she was told the engine mounts were shagged. You're a bad boy Piers!!!! Hang your head in shame!!!!!!!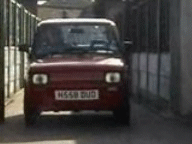 Click on the image to view movie
A bastardised version of "Its Caper Time" by Quincy Jones accompanies this, my best bit of editing so far. Enjoy !